3rd International Congress on Health in Arbaeen
11425.mp3
3rd International Congress on Health in Arbaeen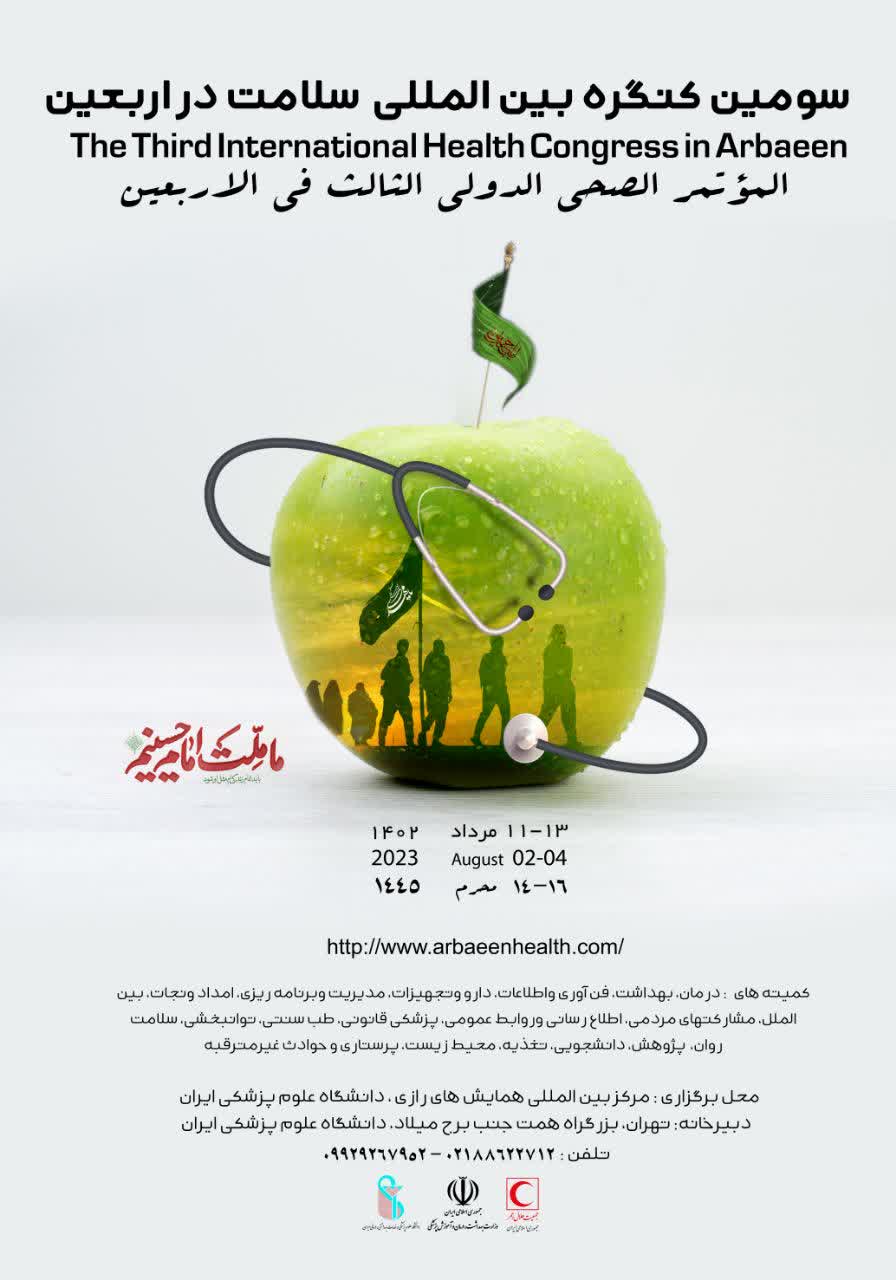 Together with the world of Islam and Shiism, and with the presence of representatives of the health field of Iran, Iraq, Pakistan, Afghanistan, India, Azerbaijan, Kuwait, Turkey, and Yemen, as well as fans of Imam Hossein (PBUH) from all over the world, the Third International Congress on Health in Arbaeen will be held by Iran University of Medical Sciences (IUMS) and Iranian Red Crescent Society at Razi Conference Center on August 2-4, 2023.
Main themes of the congress:
Strengthening health diplomacy

Identifying capacities and strengthening the provision of health services
More information about how to present an article or participate in the congress is available on the congress website at arbaeenhealth.com.
  تزامناً مع العالم ال

إ

سلام

ی

 والتشیع ، نعلن بعقد 

مؤتمر الدولی الأول للصح

ة 

تحت عنوان

 

(الصحة فی أ

ربعینی

ة

 الامام الحسین ع )

 بحضور ممثلی کل من الدول التالیة: 
إیران والعراق وباکستان وأفغانستان والهند وأذربیجان والکویت وترکیا والیمن وکل محبی ابا عبدالله الحسین (ع )فی ارجاء العالم من 11الى 13 اغسطس فی جامعة الطبیة إیران .
محاور المؤتمر هی کما یلی:
1. تعزیز الدبلوماسیة الصحیة
2. تحدید القدرات وتعزیز تقدیم الخدمات الصحیة
لمزید من المعلومات حول تقدیم مقال أو المشارکة فی المؤتمریجب الرجوع الی موقع التالی: arbaeenhealth.com